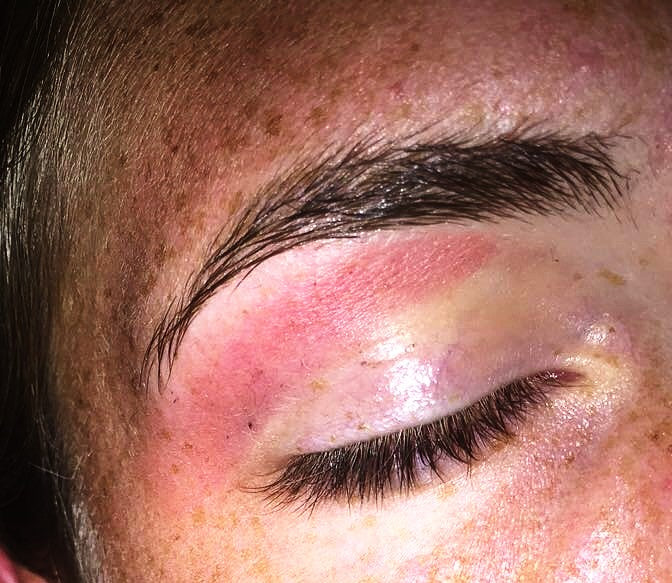 What do you think happened?
What can you do to prevent it?
Answers by You!
Melanie: Wax was too hot!
Auria: Test the wax on your inner wrist before applying it to someone else to make sure it isn't too hot. The skin around the eyes is much thinner and more delicate than the skin on the rest of the body
Maygan: Wax too hot, or perhaps she's using a product that is thinning her skin. Retinol and Accutane can sensitize the skin.
Jen: I say product or medication. I had this happen with a LONG time client. He swore he wasn't on anything. Same temp always. Later was on antibiotic he forgot about.
Chelsea: I dk girl but that shape is on point. 🥰👌 😹 But about the post-issue... it lifted and is just going to need to go through a little bit of healing but she will will be ok. .... especially with that shape. Yes girl.
Amy: I say product or medication
Rana: Her skin lifted:( wax was too hot or she is on some type of medication or product that doesn't behave well with wax. Did she say the wax felt too warm at all? I'd go over really thoroughly what she's using at home and recommend neosporin. The redness will go down in a couple days probably
AnnaMarie:  I removed skin with too cool of wax
Jennifer: Burn. Sensitive flare up. Aloe vera
Su: Either wax was way too hot (which she would have felt going on) or looks like she uses a product with AHA like Advanced Night Repair or some such. The skin will lift when any AHA type is used. Could also be wrong type of wax unsuitable for faces.
Kerry: Just a small point but I don't wax as far down near the eyelid, any strays I gently pluck
Wendy: Just red .... technique and or on or close to cycle!
Lori: Doesn't look that out of the ordinary. Maybe wax was a little too low. Does not look like any skin pulled, otherwise it would look pussy, like shiny from lymph present.
Xcentuate: I use to have this issue on myself . It looks like the skin was stripped a little bit. The sugar in the wax can cause this. I hope this helps
Siarra: My own did that a few weeks ago. I'm using a heavy duty eye cream tho too so that would be my guess
Bridget: My guess is using a skincare product with Glycolic
Sugarista: Possibly using retinol or wax was too hot
Crystal: Her skin was probably really dry or thin from taking medication or applying topical creams so her skin ripped.  This can happen even if wax is NOT hot. How to prevent it? …don't wax under those conditions.  How to make it better? …ointments.
LovingLife: A quick consultation can give you an idea of the state of their skin as long as they're honest.