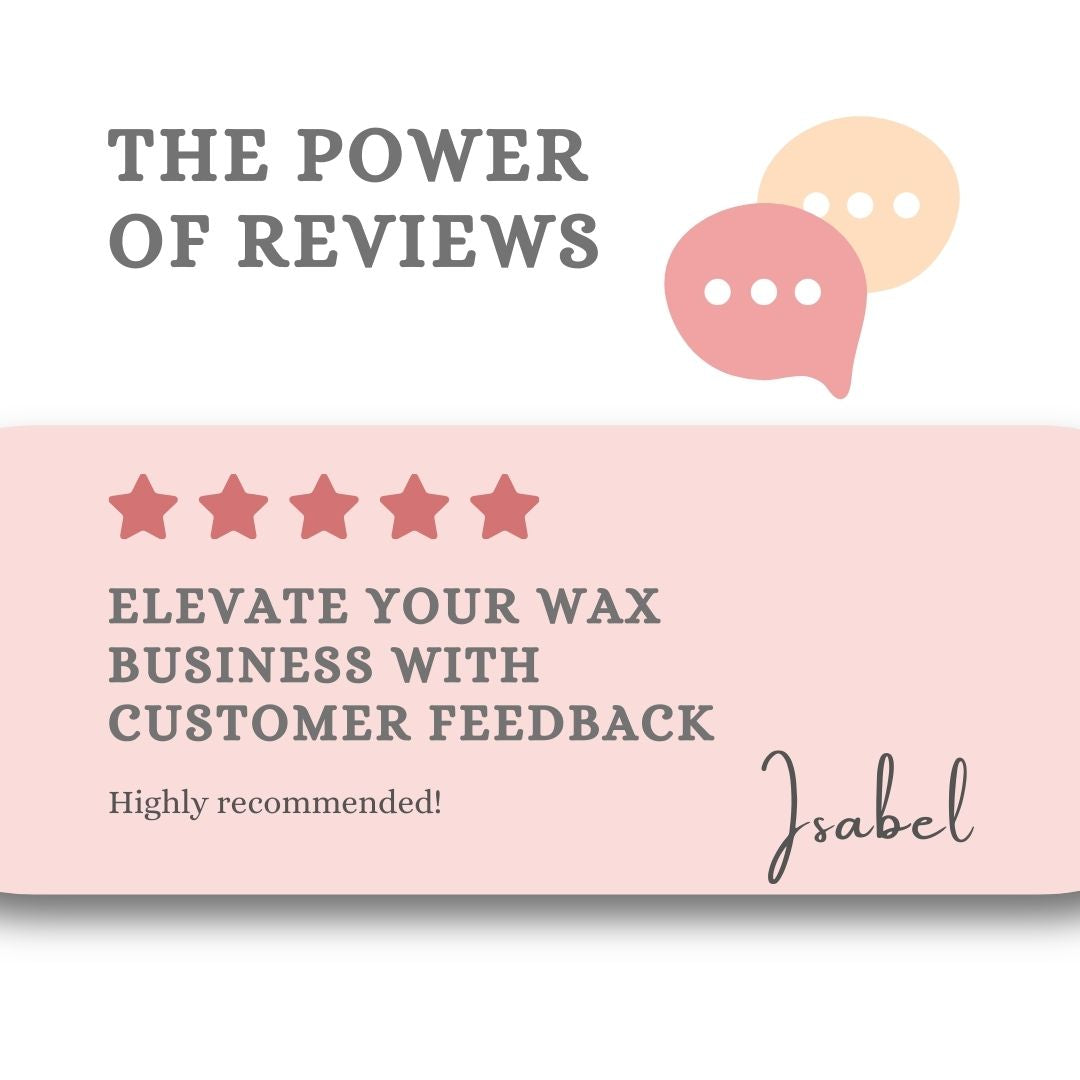 In the world of beauty and aesthetics, where the delicate balance between confidence and comfort is paramount, finding the right waxing products with the best services is essential.
One thing we've learned at the Bombshell Wax Company over the years is the incredible significance of customer reviews in growing your business and reputation. In this blog, we'll delve into why reviews matter for your waxing business on platforms like Google and your website. Moreover, we'll discuss strategies to help you garner better reviews, enhancing your brand's credibility in the process.
The Impact of Reviews on Your Waxing Business
Building Trust with Potential Clients: In the world of aesthetics, trust is everything. Potential clients seeking waxing services often turn to online reviews for guidance. Positive reviews from satisfied customers can instill confidence in those considering your services, especially when it comes to sensitive skin and areas of the body.
Understanding Skin Types: Reviews offer valuable insights into how different customers with various skin types have experienced your products and services. This feedback helps potential clients with similar skin concerns make informed decisions, ensuring they receive the best treatment possible.
Highlighting Sensitivity Considerations: Sensitivity is a major concern in the waxing industry. Customers trust reviews to learn how your wax formula handles sensitive areas. A multitude of positive reviews in this regard can set you apart as a go-to choice for those with sensitive skin.
Effective Use of Quality Products: Reviews can also shed light on the efficiency and quality of the product brands you trust to use. Clients want to know you choose the best products to ensure smooth, quick, and hassle-free waxing experiences, especially when targeting larger areas of the body.
Ways to Improve Your Reviews
Exceptional Customer Service: Stellar service goes hand in hand with positive reviews. Ensure your clients feel comfortable throughout their waxing services, addressing their concerns and questions. Encourage open communication and be receptive to feedback.
Consistent Quality: As Bombshell Wax is renowned for its high-quality products, maintaining this reputation is crucial. Consistency in the performance of your wax formulas is key to garnering positive reviews consistently.
Educate and Inform: Help your clients understand the waxing process, particularly in sensitive areas. Provide aftercare guidance to minimize discomfort and post-waxing issues. Informed clients are more likely to leave glowing reviews.
Request Feedback: Encourage your satisfied clients to leave reviews on platforms like Google and your website. Implement strategies like follow-up emails or in-person requests to make it easier for them to share their experiences.
Respond to Reviews: Show your commitment to customer satisfaction by responding to both positive and negative reviews. Thank those who left positive feedback and address concerns in a professional and empathetic manner. This demonstrates your dedication to improvement.
Incentivize Reviews: Consider offering small incentives, like discounts on future services, to clients who take the time to leave a review. However, always adhere to ethical guidelines and platforms' policies when implementing such incentives.
Optimize Your Online Presence: Ensure your website is user-friendly and showcases your waxing services effectively. Provide a clear avenue for clients to leave reviews directly on your site, in addition to external platforms like Google.
Engage on Social Media: Utilize social media platforms to engage with your clients and foster a sense of community. Sharing client testimonials and reviews on your social channels can further boost your brand's credibility.
Professional Development: Invest in ongoing training for you & your waxing staff to ensure they are equipped to handle all skin types and sensitive areas effectively. Happy clients translate to positive reviews.
Innovative Product Development: Continue to innovate and make sure your wax, equipment and wax services meet the evolving needs of your clients. Stay ahead of the curve and make sure your products stand out.
Conclusion
Google the best ways to obtain and share customer feedback as each glowing review is indicative of the skill and commitment you have put into your work. Making sure your clients leave and report their experience will aid in drawing in potential customers, create a positive presence online, and raise the status of your waxing business!